A Standard is defined as: a tree or shrub that is trained to have one central leader or stem and a rounded head of branches. Standards are trained as young plants; the central stem is braced against a stake, forcing it to grow straight and tall. Lower branches and shoots are removed and the remaining upper branches are sheared frequently, to shape and to encourage fullness.

There are many plants that lend themselves to being Topiary specimens. Essentially, it is more desirable that the plant is evergreen, that the leaves are fairly small and interesting, that it produces a seasonal flower and, most important, that it responds well to constant pruning.



CLICK HERE FOR MORE INFORMATION
People imagine that the Art of Topiary is time-consuming and only for those who have that special artistic flair - but that is a myth! Once the shape has been formed initially, it is merely a question of giving it the odd haircut. It is a garden task that can be done with secateurs in one hand - whilst the other hand can hold a glass of chilled Chardonnay!
And as for that artistic flair, you never know until you try. Unleash that inner creativity and give it a go! You may be pleasantly surprised. And at the very worst, you can always let the plant re-grow, like a bad haircut!
CLICK HERE TO CLOSE MORE INFORMATION
1 PRODUCTS
PAGE 1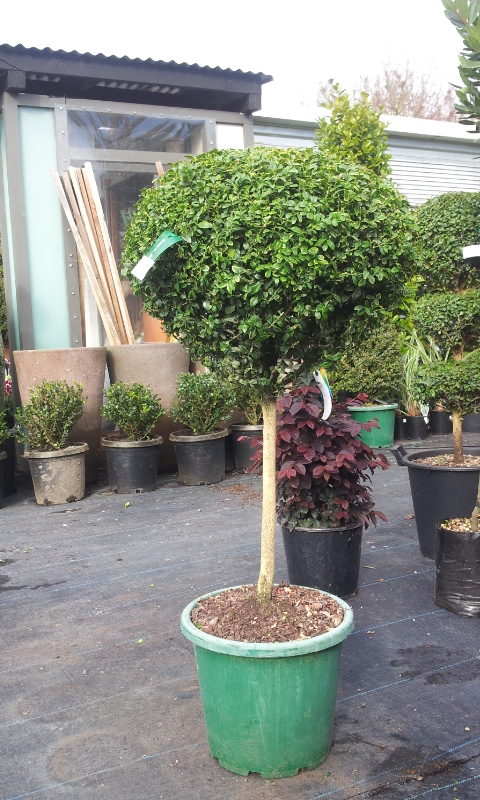 CLICK TO ENLARGE
The ubiquitous English Box is a versatile and rewarding plant that is easy to grow. The small, stiff, green leaves are perfect for trimming and shaping and always look good at any time of year. This 1 ball topiary specimen can be grown in a container or a special place in the garden. Evergreen.

Colour: White
Habit: Compact
Est. Hgt/Wdth in 7/10 yrs: Std

Buxus Sempervirens 1 Ball Std
Current Stock Height: STD-50/HGT-90 cm ?

Container: 12l ?

WAS $99.99
NOW $79.99
PAGE 1
Wairere Nursery
826 Gordonton Road, R D 1, Hamilton 3281 Ph: (07) 824 3430 Email: Open 7 days 8:30am-5pm