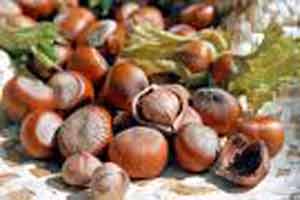 CLICK TO ENLARGE
Nut. Hazelnuts are highly valued for their delicious taste plus the fact that they are high in protein and unsaturated fat. 'Campanica' hails from Italy and produces plenty of large nuts with a great flavour. Pollinate with 'Butler' or 'Tonda di Giffoni'. Deciduous.

Harvest Hazelnuts when the nuts fall naturally to the ground around February-March. Dry thoroughly prior to storage.

Colour: Brown / Pink
Habit: Upright
Est. Hgt/Wdth in 7/10 yrs: 4m x 3m

Hazelnut Campanica
Container: pb8 ?

New stock arriving middle of July, 2020. Pre-order now. Estimated price $49.99 each. Payment when stock arrives.
Wairere Nursery
826 Gordonton Road, R D 1, Hamilton 3281 Ph: (07) 824 3430 Email: Open 7 days 8:30am-5pm