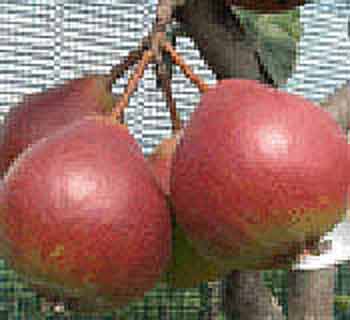 CLICK TO ENLARGE
A popular heirloom American Pear that dates back to 1881. Small fruit with thin glossy yellow skin that is blushed red on the cheeks. Exceptional flavour with creamy-white, buttery, sweet and juicy flesh. Pollinate with Conference or Packhams Triumph. Happiest in a sunny sheltered spot. Deciduous.

Colour: White
Habit: Upright
Est. Hgt/Wdth in 7/10 yrs: 3.5m x 3m

Pear Worden Seckel Dwf QuC
Current Stock Height: 170/190 cm ?

Container: pb28 ?

New stock arriving beginning of July, 2020. Pre-order now. Estimated price $39.99 each. Payment when stock arrives.
Wairere Nursery
826 Gordonton Road, R D 1, Hamilton 3281 Ph: (07) 824 3430 Email: Open 7 days 8:30am-5pm