Friday 2nd July, 2021
Hi


The large, the medium and the small of it!
I am always fascinated about trees and what makes for a large, medium and small sized tree and it's not always just a straight forward answer. In my head I think of certain trees like Oaks, Elms, Ash, plane trees and the like as large but large actually takes time. Tree heights are often given as a 7 to 10 year time frame, being the most conceivable vision of size for their foreseeable future but often is not the mature height of that particular tree.
Flowering cherries, Gleditsias, Robinias and many Magnolias are likely considered of medium size, and perhaps even small, but are often, in maturity, too large for the tiny sections that we seem to have growing around us at a rate of knots.
Small trees are actually quite difficult to name many but some Cercis, some dogwoods, crab apples, some maples and even some magnolias could be deemed small but give them 50 odd years and they may well have outgrown their spot in the garden. I use the word "some" as there are also medium and large cultivars and species within these genus or groups of trees.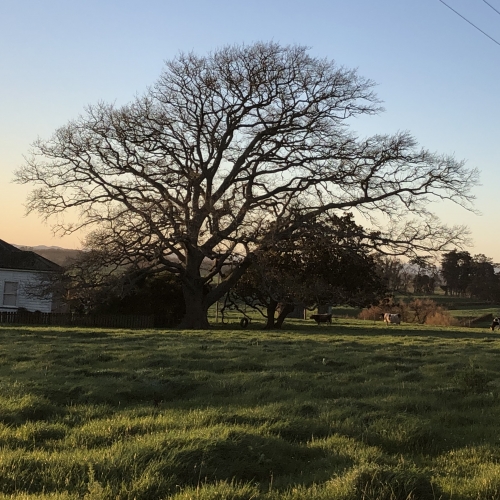 On my way into the Tron I drive past a gorgeous view of a house and a couple of trees and I am always intrigued with the concept and try to imagine what is going on here. I was chatting to Tony on one such trip with my thoughts and he stopped to take a pretty cool pic which illustrates and provide the subject for todays email that I want to share.
Now the trees in question, in this pic, are a deciduous Oak and an evergreen Magnolia Grandiflora, both what I would consider large trees, though I guess the oak would be larger overall in time. Probably both planted at the same time the house was built, presumably villa era of around 100 to 120 years ago. I love the way that it demonstrate size so graphically, the Oak has probably helped suppress the size of the Magnolia by getting to the nutrients first as well as shadowing the Magnolia from some of the available sun so environment has probably played a part in somewhat dwarfing this example.
Let's not forget that trees actually have lifespans just like everything else. Because our climate in NZ is so good, as in warmth, rainfall, fertility etc, trees here reach maturity faster than, say, those in harsher European climates. I'd say this Oak tree is in pretty good nick if it's 120 years old as it's probably in its latter stage of life.
The smalls of it all
We all think of Camellias as quite large bushes and, on the whole, they are though some
species
, like
Tsaii
, can grow into quite handsome small or medium; depending on your version of size, tree. The
sasanquas
are pretty much the same, labelled and listed at approx 2 metres for the first 7 or so years, but when you look around you see plenty of these autumn flowering Camellias looking like specimen trees at around 4 m x 4 metre.
Japonicas
, on the other hand, are quite a lot more dense and take a bit longer to get some size.
But it's the little ones that set themselves apart and these are really quite petite.
Sweet Emily Kate
is a very pretty pink peony style flower on a robust bushy shrubby plant reaching approx. 1 metre high.
Little Gem
is truly compact, tidy and very neat and will grow not too dissimilar to a Buxus plant clipped into a ball.. pretty single white flowers smother this bush in the Autumn.. a goodie for landscape design .. imagine them mass planted in a line or a series of these just as you would use Pittosporum Goldball.
Moonlight Magic
really appeals to me with large single, slight, semi double flowers with golden stamens showing. I love these flowers and the leaves are pretty cool too being japonica like in style and very dark glossy green leaves. The beauty is that this is another Camellia that will reach just one metre high.
Itty Bit
is another tiny, slow grower with a stated height of only around 1metre but may take some time to get there... sweet pretty pink flowers make this another goodie for the shaded garden.
Quintessence
is an oldie but a goodie for a dapple light position, pretty shell pink flowers, that are fragrant, adorn this Camellia with its pendulous habit. Not only great in the garden but consider for a pot or in a hanging basket.
Ang's picks
Daphne
are just budding up, cant wait to have that heady aroma in the shop again. We have lovely bushy grades of either one or two year old plants in both the leucanthe and the leucanthe alba. Daphne like very specific growing conditions and may defoliate a bit when they change location, usually because they have to adjust to a different light level to what they had grown accustomed to, they usually adjust fairly well though so long as you have accorded them some shade.
Helleborus
Ang says these will be the last of the Hellebores for the season but has ensured you have a great selection to choose from, most are flowering now and many of them are displaying their amazing diversity of both flower and foliage. Many of these named varieties are being bred for more outward facing flowers and being displayed above the foliage rather than in amongst it and the length of flowering time with many flowering all winter and into spring. They like some shade but many are tolerant of full sun also.
Trevor from the
Waikato Rose Society
has been very happy with the excellent turn out to the training demonstrations for rose pruning. If you are still planning on attending one of these demonstrations then you have one weekend left to check it out. For details visit our facebook
events
.
If you are out and about on these early icy mornings then please drive safely. I see there is snow appearing in many of our mountainous areas so take care wherever you are and have a fab weekend.
Cheers Lloyd, Tony and the Wairere team