Friday 29th April, 2022
Hi
Wax Scale
A day off and Tony and I were walking down Ponsonby road just enjoying the sunshine and the views when my eyes spied a lily pilly hedge that was looking a tad poorly and not just because it had Psyllids. I looked inside the hedge, as you do when you are a plant nerd, oblivious that it looked like I was peering into some one elses property. The Psyllids are usually on the new leaves on the outer side of the hedge but inside looked like it was snowing all over the stems... The story only gets worse as I take pics to bring back to Virginia to identify what these white lumps were all over the stems.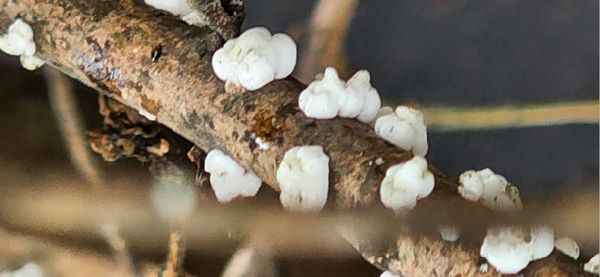 Now I knew that Virginia would know exactly what it was and would be totally excited to share her knowledge. It transpires that these gross white lumps are actually Wax scale and under the large waxy lumps are a tiny scale insect that is sucking the life out of the stems. If I had thought about it hard enough I should have guessed that it was a kind of scale and it must have this relatively huge lump to protect itself.
Often infestations of any kind of bug or fungus can be because the plant is either nutritionally or environmentally challenged, the same as with us, when we're in good health we are more likely to ward off infections. This hedge was baking along the side walk in a tiny narrow garden that couldn't be fed or watered, considering the age of the plants, and I guess hence the large population of Wax scale.
The other fascinating point about our new found wax scale that Virginia mentioned is that there is another relative, a kind of pink wax scale called Kerria Laca (latin for laquer?) and this is the source of lac used in the lacquer Shellac. In our old villa I bought shellac to redo the varnish. Who would have thought that this would have come from a pink scale?
If you think that Virginia must be fascinated by all things biological, then you'd be correct and she found this interesting piece about the order and family of scale.
Hemiptera Coccoidea
The group is extremely sexually dimorphic; female scale insects, unusually for Hemiptera, retain the immature external morphology even when sexually mature, a condition known as neoteny. Adult females are pear-shaped, elliptical or circular, with no wings and usually no constriction separating the head from the body. The mouthparts are adapted for piercing and sucking.
Adult males in contrast have the typical head, thorax and abdomen of other insect groups, and are so different from females that pairing them as a species is challenging. They are usually slender insects resembling aphids or small flies.
Most species have wings, and in some, alternate generations may be winged or wingless.
Adult males do not feed, and die within two or three days
Now there are many kinds of scale and our roses that we all love also have their own kind of scale, tiny white lumps that coat the stems of your roses and all with a little sucking insect underneath the armour. All scale have a juvenile phase which is crawling until they set up their permanent home under wax or armour which can make control more difficult.. (now we know that this is the female). Technically, spraying with conqueror oil will do the job as it covers the outer protective coat preventing breathing, though you may need to spray several times and then keep up on a regular basis.

Conebush or Leucadendron follow up
Last week we learnt that Leucadendrons are separate male and female plants and I was curious to know which were the males that we had in stock. I found
Starburst
,
Cherry Glow
,
Plum Supreme
. Apparently the male plants can be more brightly coloured and showy, as is often the way in nature, though the female colours tend to last longer. Personally they all are pretty beautiful to me and, let's face it, I didn't know the girls from the boys until last week!
Then I was curious as to what the male flower looked like and it turns out that it is also cone shaped, as you would assume with male bits and pieces. Pollination is by beetle or insect for most species but according to Google some species can be wind pollinated.

Grevilleas of the ground cover kind.
Grevilleas are a great plant for those hot dry and sunny positions and come in a variety of shapes and sizes ranging from ground covers to shrubs and even trees
Grevillea Aussie Crawl
A mat-forming shrub has deeply lobed evergreen oak-like leaves and burgundy-red spring flowers. The leaves flush bronze and mature to dark green. Toothbrush-shaped clusters of dark red flowers appear along the stems from late winter to late spring
Grevillea Mt Tamboritha
A tough little Aussie that thrives on neglect. Small grey-green rounded foliage. Distinctive creamy white and red shaggy flowers are produced en mass during winter and spring. Happiest in a sunny well drained position. No need to fertilize, will cope with strong wind and poor soil
Grevillea Prostrata Aurea
Fast growing ground-cover shrub that is ideal for hot dry, windy areas, also tolerant of coastal conditions. Bright green spiky foliage and clusters of small yellow flowers from spring-summer.
Garlic planting now
The days are definitely shorter as when I look out from the kitchen window in the mornings the sun is now peering through the trees as it does in the winter. When you think about it we are only 6 or so weeks from the shortest day which is the traditional time to get your garlic in the ground, well any time from now onwards. Plant in good rich soil with the individual cloves 10 to 15 cm apart and in rows. Harvest as we approach the longest day
Garlic Printanor
A culinary soft neck Garlic with a premium flavour. Forms large, firm, white skinned cloves. Companion plant as aphid deterrent. Plant in a sunny, well drained spot with the 'pointy' end up
Garlic elephant
This is slow growing and forms a very large bulb. Individual corms have a mild sweet taste (especially when roasted) and are less intense than regular Garlic
Peonies beautiful perennials for the garden
It's true that peonies like the cold or a cooler climate but these beautiful flowers are so worth a crack. Beautiful in the garden and great for picking as well. They enjoy full sun and good rich soil to grow the biggest flowers. These four listed are totally new to us but there are also some of the varieties that we usually carry in stock if you want to
check them all out.
Gordonton Art and Design Trail is this weekend
Just to remind you again. The Gordonton Art and Design Trail is this weekend, Saturday, 30th April and Sunday, 1st May, from 10am to 4pm each day.
Trail maps will be available on the day from The Mandarin Tree, The FirePot Cafe, Woodlands Garden Grove Cafe and Bola Ceramics 180 Law Rd. Also maps available online soon on the Gordonton Art and Design Facebook. For more information go to The Gordonton Art and Design Facebook page.
Making Gordonton Greater
One for the locals ... Making Gordonton Greater.. local area blueprints.. Public workshop at the Gordonton Hall Thursday, 5th May, 6.00pm onwards.
Last weekend of the school holidays and then we are back to normal working weeks for a while, thank goodness. Don't forget Mothers Day looming fast next weekend, Sunday to be exact.
The weather is forecast for another good weekend and so get out and about and make the most of the Autumn sunshine.
Have a great weekend
Cheers Lloyd, Tony and the Wairere team