Saturday 7th May, 2022
Hi
We are on a roll with filling the place up again! Not that I think that it looks empty, with space opening up in the centre bays 8, 9, 10 and 11, it may seem so.
What this does mean is that we are getting ready for the new season's roses due hopefully mid-June. It's a tricky one for the growers as the seasons seem to get warmer which means that they need to lift later. Add the fact that we haven't really had any rain and I know that the soil will need to have some moisture before anyone gets cracking digging. Everything in horticulture is quite weather dependent from growing to lifting and dispatching.
We now have all the
Camellias
in the right bays and in alphabetical order,
Rhodos
and
Azaleas
as well. I know that Ang has been busy getting extra stock like the
Proteas
to sit in the Bays designated for the roses. Seems a good place to borrow for a few weeks until we get them into their correct positions. Check out these just arrived Protea highlights. I know that the team will be busy emailing out the backorders as these have been popular and won't last long so be in and grab them if you get notified or if the stock is available.
Protea Tsitsikamma
If you love King Proteas then this is one for you to try being a King Protea hybrid. Similar flowers to the classic king protea, large and just fab for floral work.
Protea Sylvia
Hybrid with a vigorous growth habit which is very free flowering. Flowers predominantly in winter. The flowers have a deep reddish bract surrounding the central flower mass.
Protea Limelight
Classic nerifolia form which I love, and the colour is stunning. What a beauty this Protea is with stunning large 'furry' blooms of soft lime edged with a rim of black. Lovely in the garden and great for those of you who can't resist picking.
Protea Candy
A beautiful free flowering, vigorous variety. The flowers have candy red bracts with a black tuft in the centre.
Winter roses just keep getting more stunning thanks to Living Fashion
I needed to know more about these stunning winter roses as the word hybrid wasn't quite good enough to share the secrets of these stunning blooms. Well, if you know the parent species then one can make some assumptions about the best position to grow these. But rather than make any guesses, I rang the supplier who put me onto a delightful and passionate Debbie from Living Fashion, who together with Plant Management Australia organize tissue culture imports of the very latest varieties to offer our customers in NZ and Australia.
For those that don't know, and I have to say that its way past my training days, but very simply, pieces of plant tissue are cultured in petri dishes and imported to NZ and Australia where they make their way very quickly to the our wholesalers so they don't spoil. Its approximately a two-year process from teasing them apart and growing them into small plantlets then finally into bigger pots and then out to garden centres just as they are about to flower. I wanted to note here also, that it all takes time, and they are already organising and making decisions for cultivars for the coming years. So let's all watch out for what treats will be in store for 2024.
Just so you know, all these imported tissue plants are actually trialed by Living Fashion in positions that replicate the home garden. They want to be sure that the plant will do well and flourish for the final retail customers. As with all plants there are better positions for planting and I was also given the best advice to share about this.
These hybrids with the large and marbled leaves, like a well-lit position that will get the morning sun and perhaps dappled light, though they will take some sun. Great soil that is on the drier side with sharp drainage is also best, but they will grow in most soil types in NZ. I was also interested to learn that you could have them inside as a house plant for a short span of three to four weeks before they needed to go into the garden. Again, well-lit but probably no direct sun through the windows.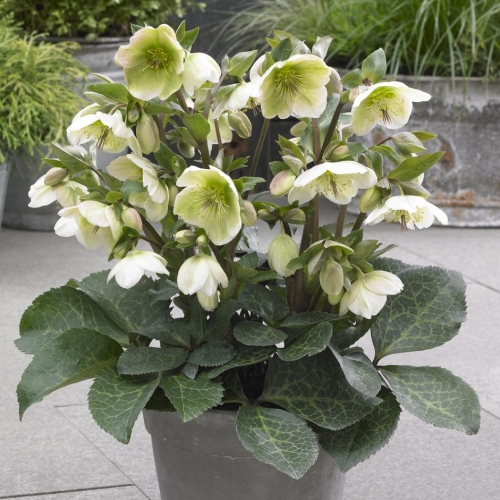 Molly's white was a fav with Debbie and if you check out the pics that she so kindly sent me to share its a stunner as they all are. Don't just think that the flower is the star of these beauties but also the leaves are just gorgeous, the shape, the shade of the green and oh my word the marbling too.
Helleborus Ice Queen Winter Rose single. A very welcome addition to the winter garden providing a floral display when most of your other plants will be having a winter rest. Dark green foliage offset beautifully with pure white flowers. Happiest in semi-shade and well drained humus rich soil.
Helleborus Illumi Lime This hellebore has a very distinctive marbled leaves. The lime green veins are striking against the dark green leaves. A mass of lime green flowers through the winter months when little else is flowering.
Helleborus Isabella Charm This winter rose has large numbers of ruby pink flowers on upright stems which are good for cutting. Flowers fade to a deep burgundy. Foliage has an attractive marbling on leathery leaves.
Helleborus Mollys white Winter Rose single. Marbled foliage all year round and in Late Winter, stems hold the white flowers above the foliage. It is free flowering producing a large collection of flowers on a single plant. Excellent for planting in the border or great for winter containers on the patio. Thrives in full sun or partial shade in any good, well drained soil.
Helleborus Olivias Joy This range from South Africa is really special. Compact low foliage with the sweetest mid pink flowers held well aloft and outward facing. Looks stunning in the garden, container, planted en masse or as a table top.
Helleborus Sophies Delight This hellebore from South Africa is really special. Compact low foliage with gorgeous outward facing blushed pink flowers. Stunning in the garden, container, or as a table top adornment.
Helleborus Tutu Winter Rose single. You're going to want to add this gorgeous Hellebore to your collection. Fabulous dark rose pink, speckled blooms, that resemble little ballerina skirts, on upright stems. The centre of the flowers is bejewelled with yellow stamens. Handsome dark green foliage. Plant in semi-shade in humus rich, well drained soil.
Helleborus White Tutu Winter Rose. Elegant semi-double white blooms with delicate ruffled centres. Thrives in shady nooks. The perfect solution for a dramatic and graceful facelift - bring style and panache to your garden. Unique semi-double, white with speckled pink flowers are borne high above lush green foliage. Plant in semi-shade areas in humus rich, well drained soil.
What looking hot or just new in!!
The stunning stems of
Cornus siberica.
Well you could be excused for thinking that this particular Cornus / Dogwood is well rather plain or just another green leaved shrub but wait till you see it stripped of all of its leaves, lol best seen naked and its just red hot literally. At this time of year its really strutting its stuff with amazing red stems. The secret is to cut this one back straight after its spring flush has hardened to bring on new stems for the Autumn which as the weather cools, loses it leaves to show its beauty.
Gordonia Yunnanensis.
We don't often have these and not to be confused with Axilaris as this species has wider silver grey/green leaves but still with the classic simple single large flower of white with the yellow stamens looking not unlike a fried egg sunny side up.
Cordyline Earthstrike.
New Release - This wonderful new Cordyline has the colours of NZ! Jade green leaves with stripes of brown like the earth, a wonderful contrast. Semi clumping habit with large arching leaves. Grows well in the garden or in containers.
Its been all go this week with deliveries of exciting stock all week, just like being in a candy store for all plant lovers. If that is you then there is plenty to come on out and have a wander and a good browse. Otherwise its looking like another fine weekend for gardening and getting ready for incoming roses and trees. We have just about finished all the hedges and next on our agenda will be some planting. Roll on some rain.
Have a great weekend!
Cheers Lloyd, Tony and the Wairere team